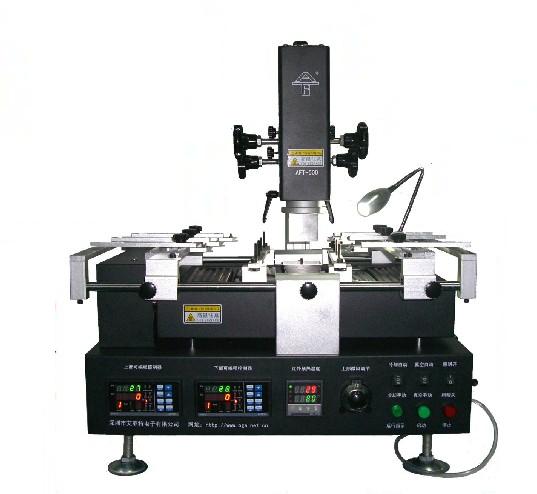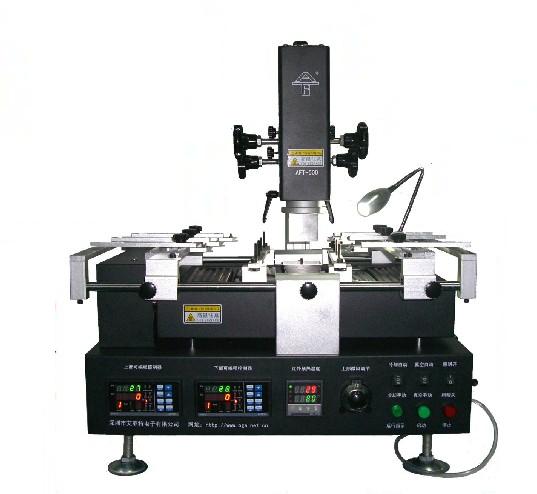 เครื่องถอดเปลี่ยนไอซี BGA Rework Station AFT-500
สามารถเปลี่ยน ไอซี Chip BGA , ได้ทุกชนิด เหมาะสำหรับงานผลิตงานซ่อม Mainboard ทุกชนิด
รายละเอียดสินค้า เครื่องถอดเปลี่ยนไอซี BGA Rework Station AFT-500

ช็อปปิ้งพีซี ดอทเน็ต ศูนย์ซ่อม Notebooks ลาดพร้าว
Tel.02-933-0022 , 081-3189844
สำหรับท่านที่ต้องการเปิดร้านซ่อม โน๊ตบุ๊ค มือถือ แท็ปเลต ทางบริษัทมีเครื่อง
จำหน่ายครบชุด สามารถนำไปใช้งานได้แบบครบวงจร
5. ตะกั่ว
BGA Tin welding machine (มีทุกขนาด)
8. Hot air (เครื่องเป่าลมร้อน)
Gordak 850 Rework Station
9. เครื่องดูดตะกัว
AOYUE i474A + electric suction tin gun automatic suction tin soldering tool super pump 220V
10. เครื่องวัดไฟ power supply

POWER SUPPLY APS3005Dm (2014 Edition) 30.Volt 5.Amp
เครื่องถอดเปลี่ยนชิพไอซี BGA rework station aft500
สามารถ เปลี่ยน ไอซี Chip BGA , ได้ทุกชนิด เหมาะ สำหรับ งานผลิตงานซ่อม Mainboard ทุกชนิด Mainboard เครื่องจักร ต่างๆ เหมาะสำหรับหน่วยงานที่ต้องการทดสอบเรียนรู้งานด้าน Rework เครื่องถอดชิพไอซี ถอดอุปกรณ์ลีดฟรีได้ดี ให้ความร้อนถึง 800องศา มีชุดให้ความร้อนจากด้านล่างขึ้นมาและมีลมร้อนจากด้านบนเสริม และความร้อนด้านล่างแบบ IR Infrared คอยให้ความร้อนทั่ว PCB ป้องกันการโก่งตัวของ PCB รองรับตะกั่วแบบ (Lead fee)โดยทั่วไป
SPECIFICATION
Rated Power: 4000W

Rated voltage:AC220V /AC110V optional

The first upper zone power: 800W

Second temperature lower power: 800W

Lower part of the preheating temperature zone Power: 2400W

Dimensions: L500mm * W420mm * H550mm

Weight: 28KG

Temperature control: high-precision closed-loop control of K-type thermocouple

PCB positioning: V-shaped slot, PCB holder can be X, Y direction adjustment

Can clamp PCB size: Max: 20mm * 20mm, Max: 320mm * 375mm

Scope: BGA, PBGA, CBGA, CFP, CPU, CSP, which are lead-free rework

Features:
1 Preheat independent infrared ceramic three-zone temperature control rework station, easy to lead-free rework.
2 high-power cross-flow cooling fan to accelerate the preheat zone to protect the continuous rework success rate.
3 bottom and top heating nozzle in use of high-end rework station mature design.
4 temperature options mature, high-end products in use temperature control program.
5 warm-up area may be permitted to independently control the size of PCB on.
6 Preheating control optimization, guaranteed preheat temperature.
ติดต่อสอบถามโทร

081-3189844,02-9330022